Professional Automatic Wire Stripper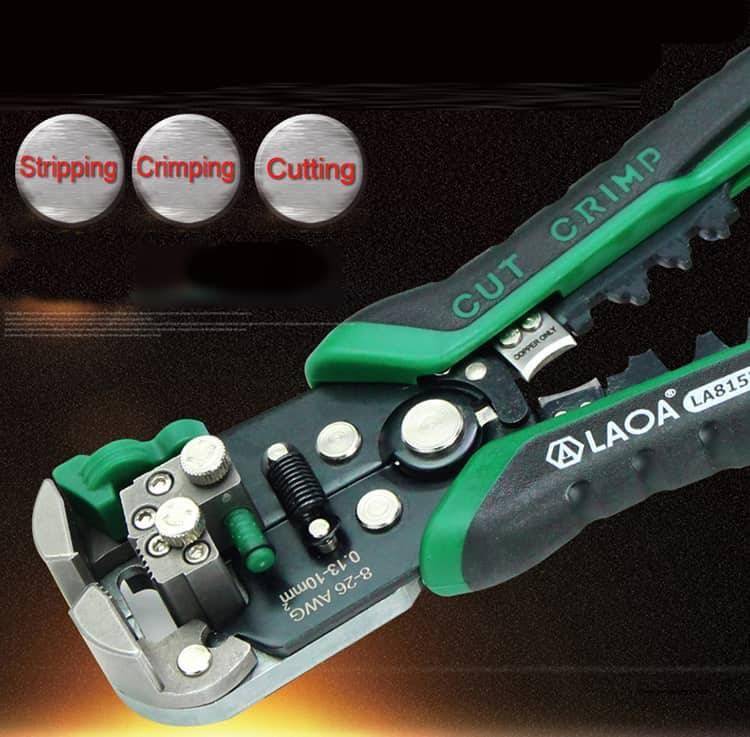 ❤【Multi-Function Wire Stripper】
Easy stripping without any adjustment. Come with self-adjusting jaws ideal. Multifunction, made of steel by special hardened and using lifetime. Professional Automatic Wire Stripper designed specially and precisely-machined toothed grapple can grip and fix the wire tightly. A wire crimping tool (crimper) crimps insulated and non-insulated automotive ignition terminals and includes a wire cutter saving you time and money purchasing individual tools.
❤【Cable Crimping/Cutting】For stripping wire from AWG24-10(0.2~6.0mm²):1. Alloy steel jaws: Hardness (HRC 55°~ 60° ) for all types of wire from 10AWG to 24AWG gauge(0.2-6.0mm²) 2. The cutter is made by special heat treatment and precision coating high-quality blade performs efficient cutting 3. For insulated terminals 22-10AWG(0.5-6.0mm²) 4. For non-insulated terminals 12-10AWG(4.0-6.0mm²), 16-14AWG(1.5-2.5mm²), 22-18AWG(0.5-1mm²).
❤【Self-Adjusting Stripping Pliers】For auto ignition terminals 7-8mm. For striping the plastic or rubber insulation of the single, multiple cables and wires of 0.5-6mm. For cutting and stripping wire and cable. The stripping force adjustment knob design can adjust flexibly according to wire diameter. The jaws clamp down automatically to select the right tension to hold the wire avoid damaging to the core and remove insulation. A swivel knob can be adjusted with smaller wires when more tension is required
❤【Non-Slip Comfort Grip】Touch grips provide maximum comfort and reduced hand fatigue. Plastic & cushion grip handle provides maximum leverage (PP& TPR) and increased comfort making the grip Self Adjusting.