Keep your vehicle (or even your home) clean and tidy with this Waterproof Car Trash Bin!
This trash bin is the best car trash can! It has a large capacity yet is compact so you can dispose or store more trash conveniently while in the car with this Waterproof Car Trash Bin.
Plus, it's foldable when not in use so it doesn't take up too much space.
If you're not storing trash, you can also utilize this Car Trash Bin as a storage bag.
It's great for storing kids' toys and drinks, as well as acting as a travel bag cooler or a portable chilly bin that can keep drinks and snacks chilled for a long time.
This professionally-designed car trash can with lid will let you enjoy your car trips, road trips or everyday home life hassle free!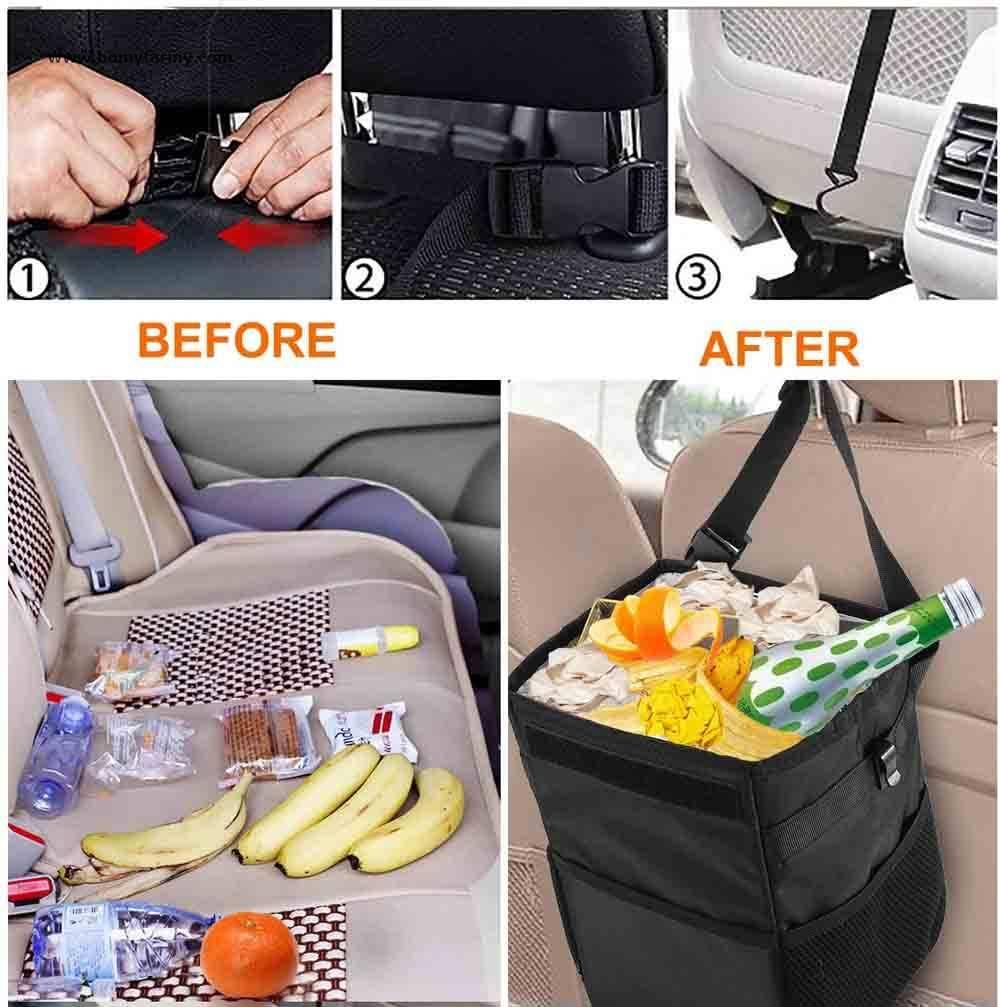 Features:
Multi-functional Design – Two extra side mesh pockets and a front fabric pocket bring extra storage space
Use In A Snap –With A Rubber Opening On The Lid, simply place an empty garbage plastic bag inside and use the two adjustable side clips to hold the bag in place when the bag is full, just remove the garbage bag and replace it.
Velcro Seal – This trash bin is easy to shut to keep your trash in without spilling over.
Reduce Odors In Your Car – Simply load it with or dump in used tissues, napkins, bottles, and more – without lifting the lid that conceals waste and blocks in foul smells or odors.
Premium Quality – Made of oxford polyester material and equipped with high-density boards, making it firm and sturdy while retaining its shape and form during usage.
Waterproof and Leak Proof – The inside of the bin also has a waterproof lining that is durable and leak-proof, making it easy to clean and wash – no worries about spilled cups or drinks leaking out in the bin when you are in the car or driving.
Easy To Store – Collapsible Shape and Adjustable Strap. Simply place our trash bin on the floor of your car, car seat, or hang it over the back of a front car seat with the drawstring cord. With an adjustable strap, this container can be placed anywhere. When not in use, you can flatten this trash bin and place it between or under the seats or wherever you want.
Universal Compatibility – This portable trash bag or receptacle is designed for most motor vehicles: cars, trucks, minivans, campervans, RVs and campers. And it works anywhere else you need it too – such as your bedroom or living room.
Multifunctional and Practical:
Use it as a storage bag for CLUTTER-FREE car interiors
Use it as an insulation bag to keep your Beer or Foods CHILLED when you go out traveling or on road trips.
Use it as a GROCERY BAG on your supermarket runs for your food supplies.
Use it as a CAR TRASH CAN or rubbish bin bag to collect the trash in your car especially when you have kids!
Specifications:
Material: Waterproof oxford cloth
Color: Black
Expanded size: 9.44 x 6.1 x 5.9 in / 24 x 15.5 x 15 cm
Capacity: 1.23 gallons / 5580 ml
Get Yours at 50% OFF – TODAY!