Get Organized And Be Clutter Free With These Awesome Umbrella Shaped Storage Hooks!

Looking for creative decorative storage hooks to hang your keys, stationaries, or even kitchen utensils?
Insert some coziness in your home on rainy autumn days 😛 These cute Umbrella Shaped Storage hooks will help you organize your space more comfortable. Get rid of the clutter lying around your counter spaces and add more zen to your atmosphere.
Made of high-grade plastic they are lightweight with strong self-adhesive backing. It will bear the weight of small items, stationaries, and accessories such as one or two keys, scissors, and all your tiny knick-knacks that may be strewn all over the place that do not have a "home".
We have three different sets of umbrella hooks that differ in color to match any of your decors. Each set comes in packs of 3
How to put them on the wall?
Our hooks come with self-adhesive tape. So all you have to do is to peel off the protective film and find the right place to put it and stick it there. Please make sure your wall surfaces are clean and dry.
These nail-free wall-hanging umbrella hooks are perfect for all your miscellaneous items
Easily removed when used on smooth surfaces.
Alternative applications
Great as gifts, decor items, and organizer tools!
Place them as decor items in the children's room. Just for fun and to make the space cozier. Don't even have to use them as storage or hook anything – they can look beautiful as is!
Place them in the kitchen, bathrooms, home office, or doorway entrance to store any small items!
Use them as containers AND hooks – simply place them on the wall upside down!
Description
Leaves no permanent damage or nail holes on your walls while offering easy storage for your small items. Easy to stick and remove. Not suitable for textured walls or heavily painted walls
Strong enough to hold your pair of keys and accessories
Specifications
Material: Plastic
Set 1 – purple, green, blue; Set 2 – red, pink, yellow; Set 3 – light blue, light pink, milky
Size: 11.3 x 12 cm / 4.3 x 4.7 in
Package includes
3 x Umbrella wall hooks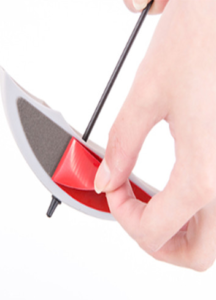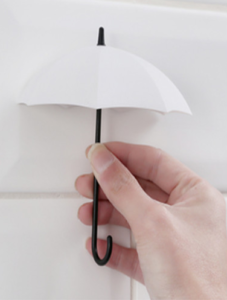 Get Yours Today at 38% OFF
Or Buy More AND Save!
---