Don't Want Your Dog or Cat Going Into Any Room Of The House Or Bolting Out?
OR Want To Keep Your Crawling Babies Safe From Stairs?
Then Portable Safety Gate For Pets or Babies is the best solution.
This Portable Safety Gate For Pets or Babies is the easiest and most convenient way to keep your pets or babies from freely wandering around the house. Helps as a deterrent to keep your toddlers safe from falling down the stairs. Or to keep them wandering into the kitchen when you are cooking or baking when the oven is hot. It's perfect for doorways, between walls, and stairwells, and best of all, it can easily be moved from one place to another as needed. Easy installation. Put it up or put it away – it's like a magic gate for pets!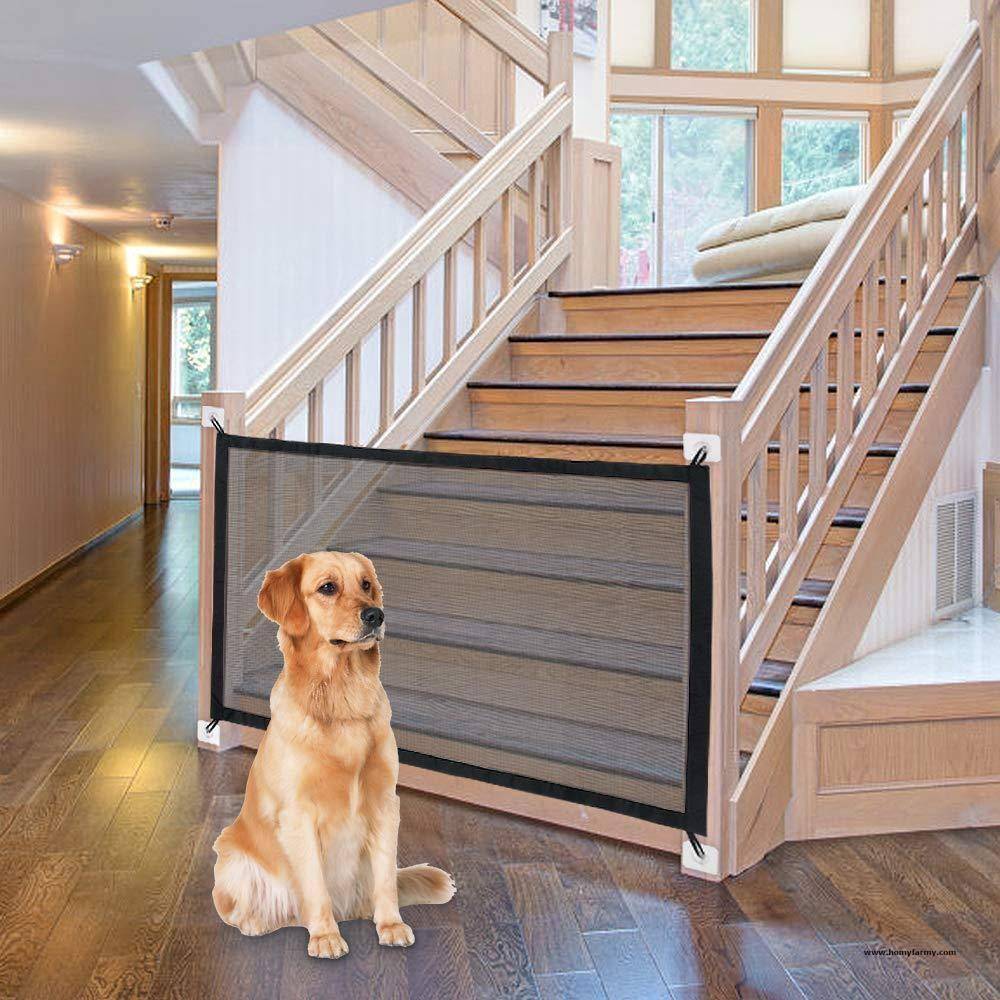 WHAT DO WE LIKE ABOUT IT?
Keep your dog or cat indoors – from bolting out of the house
Keep them out whenever you want them to!
Protect your crawling babies or toddlers from the stairs
 Create a pet safety enclosure anywhere around the house especially when there are guests at your house
 Keep toddlers or pets away from the kitchen especially when you are cooking or baking
Easy to store when not in use – simply take it off the hooks and fold it
 Provide a temporary enclosure area anywhere, and keep your doors open without having to worry about your pets wandering around
 Highly portable, place anywhere or bring it everywhere even when you travel
Lightweight, less of a tripping hazard or danger of metal gates falling on pets, toddlers
MAIN FEATURES
 Perfect for doorways, between walls, or stairwells. Can be used indoors or outdoors.
 The Portable Safety Gate For Pets or Babies is built with tough, partially see-through fiberglass fabric woven to withstand clawing and gnawing from dogs and cats.
 No tools are needed for installation.
 Lightweight and portable.
 The net retracts out of the way when not in use and is efficient for storage.
 Sturdy mesh material, adjustable and extendable (to a fixed dimension)
Non-portable, heavy installation, (and expensive), clunky metal gates (trip hazard):

Our Portable and Sleek, Safety Mesh Gate: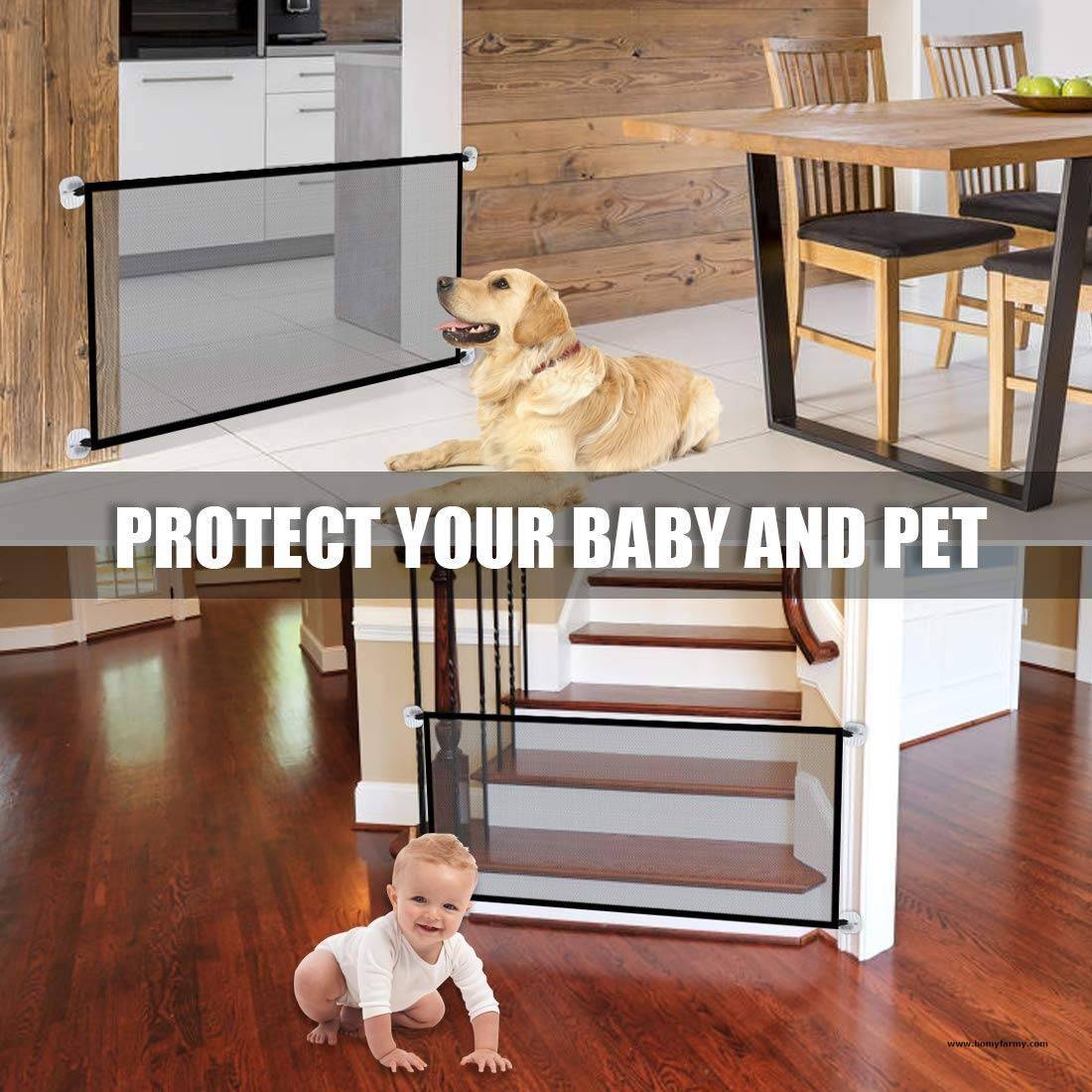 Child-proof your home
HOW TO USE
 Instant installation: Just stick the hooks to both sides of a door or wall.
(Please note the hooks will stick to any smooth surfaces and will not damage the surfaces h/v it may not stick on wallpaper or rough wall surfaces)
1. Unfold the net fabric.
2. Stretch the two metal posts to their maximum length.
3. Insert these two poles into the tunnels on both sides of the net.
4. Fix the sticky hooks to where you want to install the safety net.
5. Hang the net fabric onto the four hooks.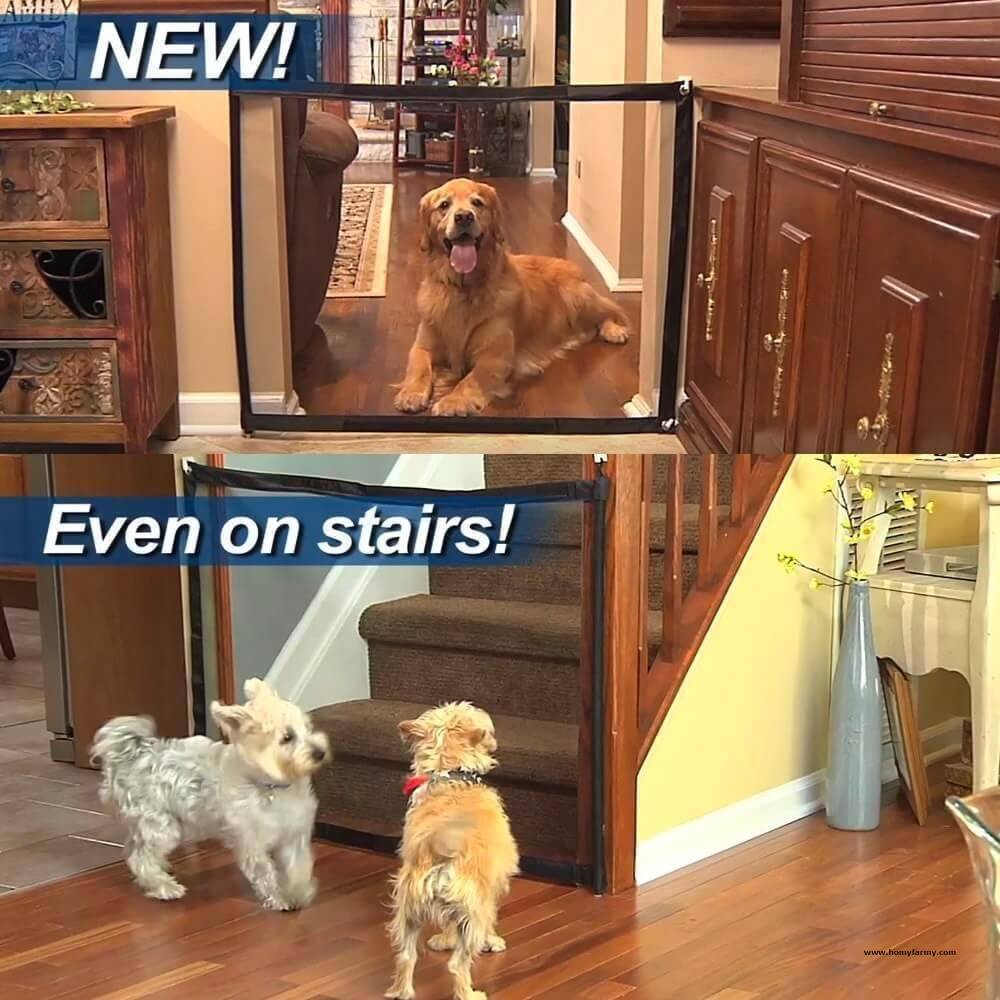 Fence them in or fence them out, create an enclosure temporarily or permanently – the choice is yours
CUSTOMERS' FAQs & ANSWERS
Question: Will the net hold up against a large dog jumping on it or running into it?
Answer: Our gate is very sturdy and can deter most household pets. In the case your dog is able to jump over it, you may need to train him or her to not jump.
Question: How many hooks do you have to unhook to remove the net? Are there top and bottom hooks or just one hook at the top?
Answer: This safety net has four hooks – two at the top and two at the bottom (hooks are included). To remove the net, you just need to unhook all hook corners.
Question: What if my door is narrower than 40 or 70 inches (100 or 180 cm)?
Answer: We advise you to roll one of the sides of the net inwards to make the net width shorter.
Please measure the width of your area first. We offer 2 sizes. So you may get one or get both. This product is not stretchable, it is however retractable and fits most doorways, between walls, stairwells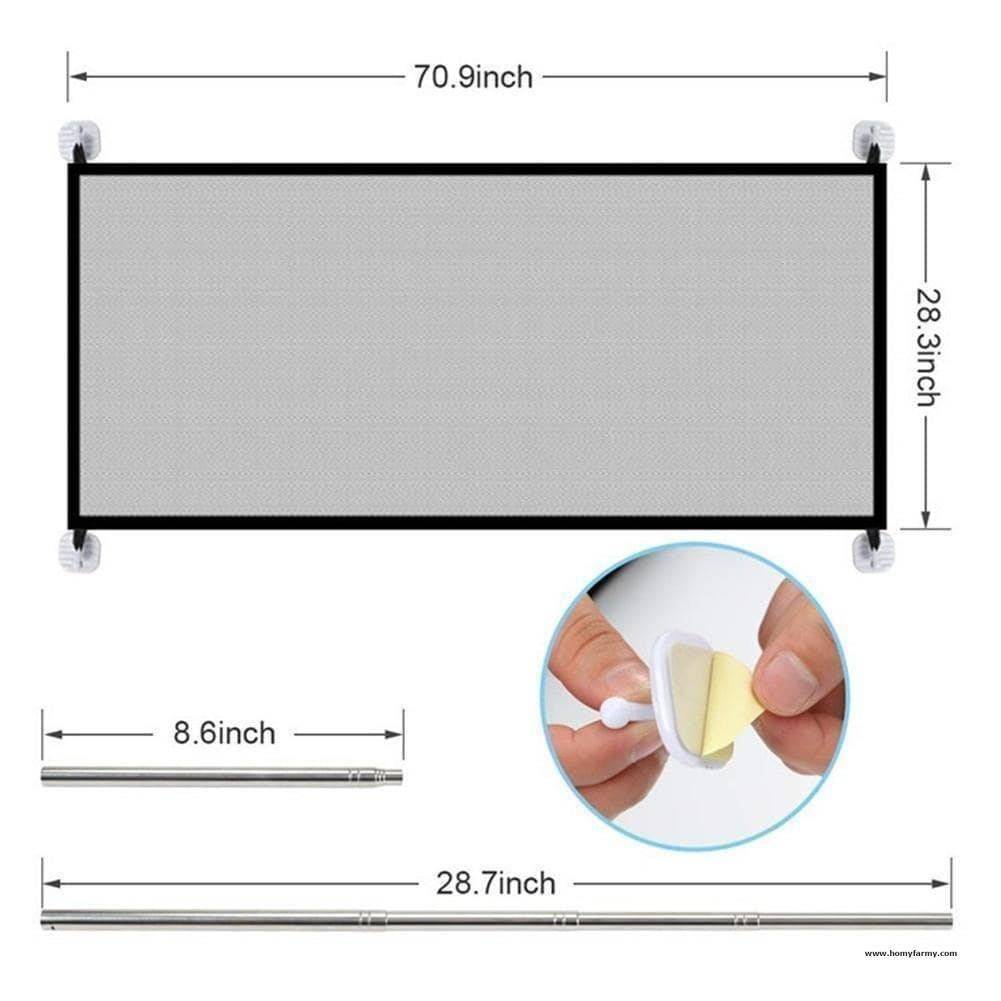 Package Includes:
1 x Pet Gate (comes in 2 sizes)
                          4 x Hooks                                                               
Buy more to cover more areas or to keep as spare 
BUY 1 FOR Over 40% OFF – BUY More and SAVE
Add to Cart Today Our Portable Safety Gate For Pets or Babies!