No more worries about what's going on at home
Do you want to monitor your kids, housekeeper, office employees, or factory workers when you're not at home? We provide you with a fantastic, discreet bulb camera that helps you gain surveillance of your home or office. A Panoramic Security Bulb Camera gives you an HD 360-panoramic view so you can see a complete picture of any room as if you are there in person. You can also get an opportunity to talk and listen to people with a built-in microphone. All recordings are stored in a memory card inside the bulb camera… and you can watch everything remotely with an interactive iOS- and Android-supported app for this bulb camera.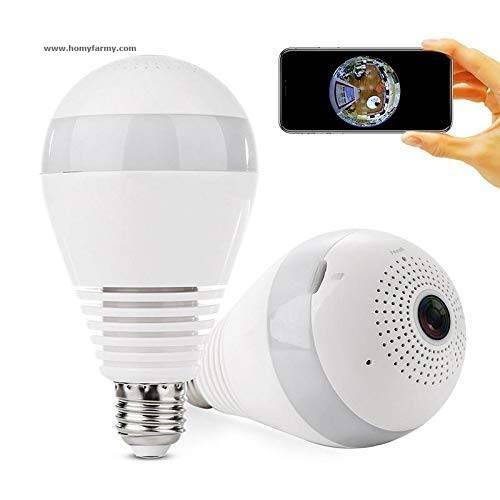 Advantages: 
360° Wide-Angle View:

Monitoring any situation or setting is easy thanks to different viewing modes for full visibility of your home or office for live viewing, day and night.

Motion Detection:

You can't always watch your home when you are outside. That's why you can get live alerts from the camera on your phone when any motion is detected. Use this clever bulb as a discreet nanny cam, business monitoring solution, or general security camera. Enjoy remote live video streaming and check expired video files that are saved on the camera's SD card, all from the camera's phone app.

Easy Setup:

Simple WiFi setup gets your camera up and running (steps are provided ina the manual). Connect your camera to your phone via a monitoring app, available for iOS and Android.

Safely-Encrypted Video Streaming:

End-to-end security encryption between your smartphone and bulb camera ensures zero risk of private information leakage: this means even if someone hacked your Wi-Fi, he still would not be able to see your video stream. To boost security, you can add an individual password for the camera and app.

Advanced Interaction:

A wide-angle lens and built-in microphone plus speaker provide two-way audio communication. These features make the bulb camera perfect as a baby monitor to connect yourself with your kids, or as a home spy to keep you home safe. You can even utilize this great device as a wireless pet video camera to capture home moments of your dogs and cats. All videos captured are shareable as well.
Specifications:
Image Sensor: 1/3 Progressive Scan CMOS
Built-In Lens: 360-degree fisheye lens
View Angle: 360 degrees
Manual Video Format: MP4(1280*960P, storage in mobile)
Video Compression Standard: H.264(Storage in TF card)
Audio Compression Standard: G.711(Storage in TF card)
Video Frame Rate: Maximum 25 frames
Focus Mode: Manual
Local Storage: TF card, maximum support 128G
Cloud Storage: Support
Notification Type: Mobile client push notification
User settings: Max share to 5 users
Package Includes:
1x Panoramic Security Bulb Camera;
1x 32GB card (if selected);
1x Instruction Manual.