Multi-Purpose Folding Shovel
23-IN-1 MULTIFUNCTION TOOL – Folding shovel includes an axe, hex driver, serrated knife, wire cutter, hoe, harpoon, saw, rescue knife, bottle opener, safety hammer, the head bit, flathead bit, and fire starter. Be prepared for any situation!
COMPACT AND PORTABLE – This shovel weighs just 1.94 lbs and measures only 9 * 6.5 * 1.8 inches when stowed, but extends to 29" in length when fully assembled, giving you the leverage you need to get tough jobs done.
BUILT TO LAST – Forged from Manganese steel and 404 stainless steel, the shovel is made to last and is constructed to withstand heavy-duty entrenching and digging jobs. The lock system ensures the blade stays put at 0°, 90°, or 180° angles, keeping you safe and protected.
VERSATILE – Great for camping, backpacking, hiking, off-roading, fishing, survival, emergency situations, RVs, military, law enforcement, hunting, gardening, and more!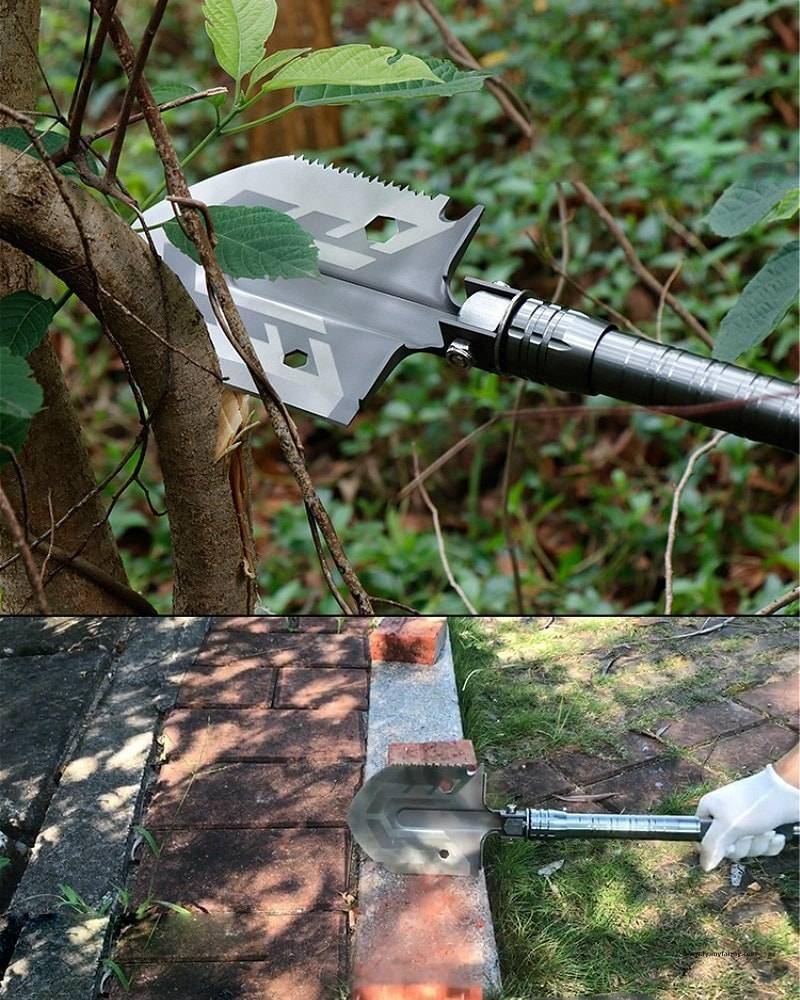 How to Light a Fire
The surface of the magnesium rod is a black protective layer. Rub it with the blade until the silver part inside is exposed, and then stroke a few times to produce some sparks.
Emergency Repair Tool
You can use this emergency tool to fix something when you encounter an emergency.
Shovel Folding Angle
When the angle is 180 ° (when fully extended), it is a good shovel. When the angle is 90 °, it can be used as a hoe. Of course, it can be folded to 0 °, which does not take up space and is easy to store.
The tactical shovelshovel multi tool has all the necessary tools that could pose a risk. Our shovel is designed to strike the right balance between durability and strength to ensure you are ready for everything.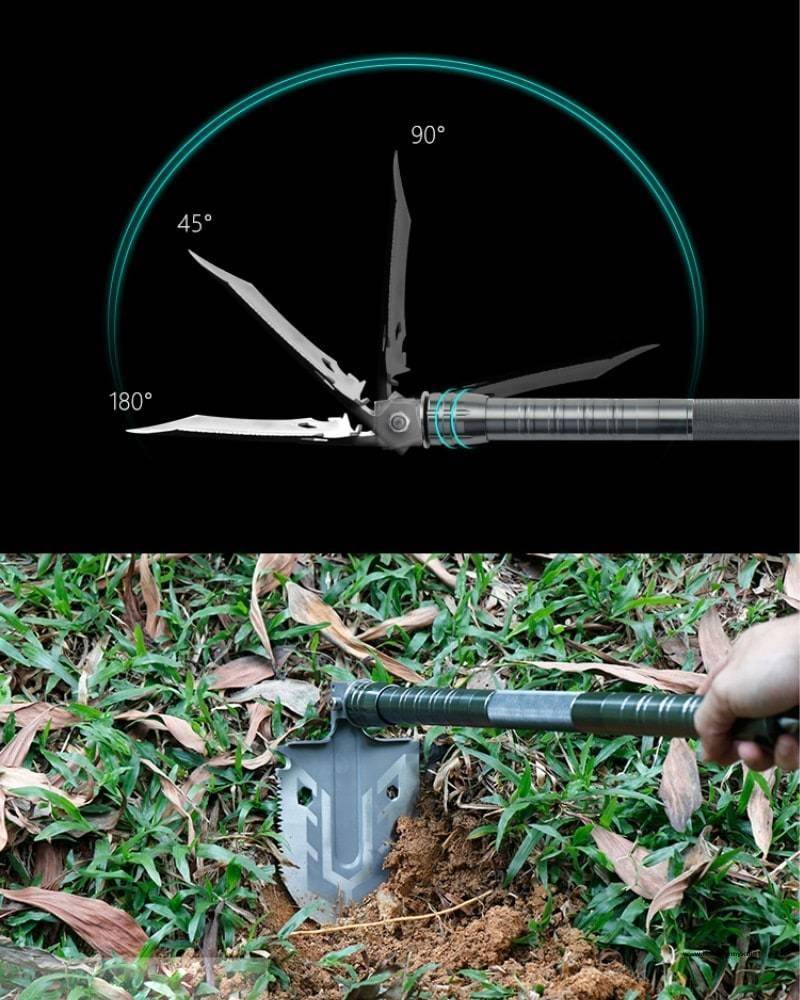 Here's a list of the uses the survival shovel comes with that'll help you survive in the wilderness, or just help with general outdoor usage while camping, hiking, or military usage:
✔ Shoveling
✔ Digging
✔ Bracing
✔ Cutting (logs, rope)
✔ Prying
✔ Hammering
✔ Window breaking
✔ Chipping
✔ Fire starting
✔ Loud emergency whistling
✔ Chopping
✔ Camera tripod
✔ Wire clamping
✔ Self-defense weapon
And more…
Color: Silver
Package Includes: 1 x Multi-Purpose Shovel
Get yours now!